Since the day construction began on our stadiums, we have been heavily investing in training our workers. Our fundamental goal is keeping them safe and secure throughout their time on our projects and beyond.
Our mandatory induction training ensures that every worker brought on board is well informed and protected, right from their first day of duty. This is especially beneficial for workers who are new to Qatar, to help facilitate a smooth transition into working and living here. The training provides an overview of workers' rights, the Workers' Welfare Standards, grievance mechanisms and other measures in place for their health, safety and wellbeing. We also focus on cultural awareness to help workers integrate into the wider community with ease.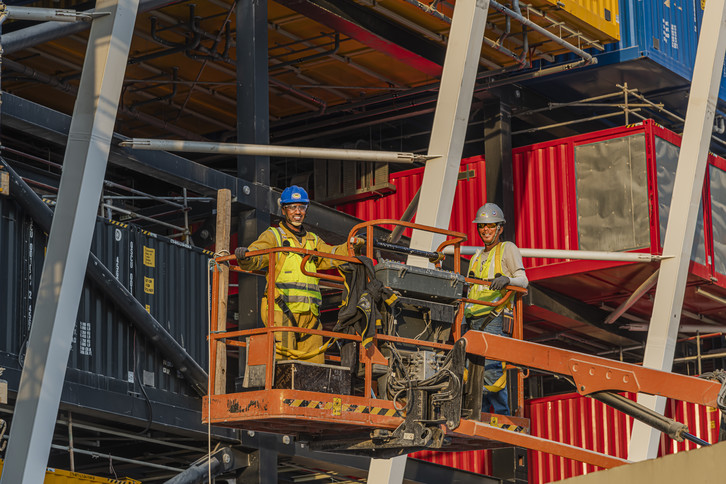 Workers' safety is central to the welfare standards we aim to achieve around the Middle East's first FIFA World Cup™. In 2017, we partnered with Qatar International Safety Centre (QISC), industry experts in the fields of training and health & safety. They deliver courses on occupational health & safety, as well as necessary training for contractors, medical staff and key workers' welfare personnel – helping them effectively cater to the wellbeing of workers.
Another key goal of our training programme is to equip workers with the necessary soft and technical skills to enhance their job performance, as well as preparing for their careers after 2022. Alongside QISC trainings, our contractors are also demonstrating true commitment in fostering the professional development of our workers by providing free certifications and trade-specific trainings. Many workers on our projects are advancing in their trade, which gives them the confidence and opportunity to build a brighter future.
Our Workers' Representatives play a critical role in relaying their colleagues' grievances at Workers' Welfare Forums, so our training also focuses on their skill development. They are trained in leadership, teamwork, communication, negotiation, conflict resolution and computer literacy to make them active members of our grievance platform. These courses complement the training carried out every year by our partner Building and Wood Workers' International (BWI) for these representatives.
Workers' Welfare & Labour Rights will continue to analyse the diverse needs of our workers and introduce strategic courses to enhance their personal and professional growth, such as languages and financial literacy, over the coming months.