Workers' Welfare & Labour Rights maintains a culture of transparency in the work we do. We recognise the importance of communicating our progress, focusing on achievements and challenges with equal integrity.
Workers' Welfare & Labour Rights actively participates in local and global conferences, contributing to the conversation around human rights and labour reform. We embrace an open dialogue approach with our industry peers. These mutual consultations accelerate the work we do as a global community towards safeguarding the rights of migrant workers across the world.
Our reports
Our Annual Progress Report details comprehensive year-on-year development in the workers' welfare legacy we are building in Qatar and across the region. In addition to highlighting major initiatives launched during the year, the report also covers recurring challenges, including non-compliance and work-related incidents.
In April 2016, we appointed Impactt Ltd. as our external monitor as part of our robust four-tier auditing system. Impactt audits and monitors the compliance of contractors against the Workers' Welfare Standards, the findings of which are published in an independent, annual external compliance report.
In November 2016, we forged another significant partnership with Building and Wood Workers' International (BWI) – the world's largest construction trade union. As part of our cooperation agreement, a joint working group was established to ensure that workers on stadium sites are protected by rigorous health & safety measures. The working group organises occupational health & safety inspections, assesses the effectiveness of existing grievance mechanisms, and reviews and assesses the health & safety training curriculum. The findings are published in annual reports alongside recommendations to strengthen our existing health & safety framework and grievance mechanisms for workers. 
2021 was a critical year for the SC's Workers' Welfare & Labour Rights Department to formalise our expanding mandate beyond construction to include hospitality, tournament services (including security and logistics) and other professional services associated with the FIFA World Cup Qatar 2022™. It also marked the department's close integration with FIFA and the FIFA World Cup Qatar 2022 LLC joint venture (Q22).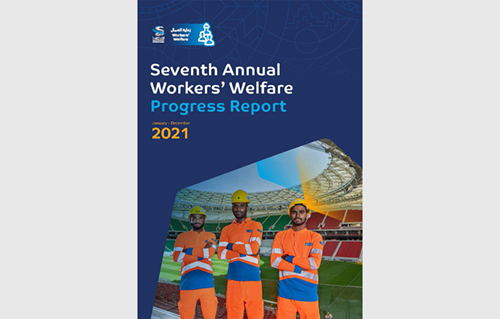 2022
2021
2020
2019
2018
2017
2016
2015
2014